Religious motifs are very popular in tattooing and it carries a special message that is clear to understand. The reason one someone chooses a tattoo with a religious theme is the faith he has and desire to tell the world about his faith. We will try to show you some of the best examples of religious tattoos that are perfect in term of tattooing.
Christian Tattoo Styles
Christian tattoos are in fact the most frequently seen religious tattoos that are pictured in so many ways. We are not talking just about crosses; we are talking about complicated tattoos with religious motifs. Most of time tattoo artists take inspiration from Bible interpreting the scenes into amazing tattoos. Moreover, the scenes can be taken from The Old Testament and The New Testament.
More common examples of Christian tattoos are words from Bible and prayers. They can be classified as quote tattoos so if you are thinking over a quote tattoo you can consider prayers as well.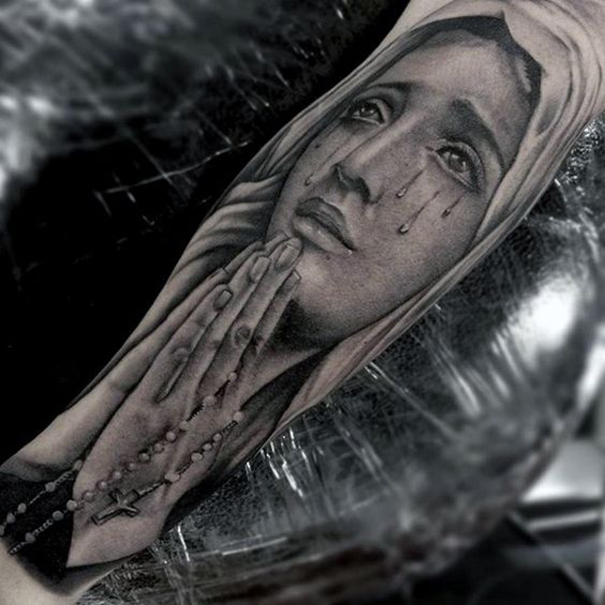 Unfortunately, God do not approve tattooing and rejects the art but hey, those religious tattoos are devoted to him. Is it still wrong. Of course some interpret the words are referred to mourning the dead body and not the modern body art we are practicing now.
Jewish Tattoos
Judaism prohibits tattooing. They say that your body is God's creation and you have no right to damage it with scars and tattoos. Still we can see here and there tattoo with that theme. Of course some wear tattoos secretly some even got permission from rabbi. The most common tattoo is The Star of David and words in Hebrew.
Tattooing in Islam
If Christianity and Judaism is more loyal to tattoos Islam considers tattooing complete haraam. Even if you want to get a temporary tattoo, Islam prohibits it. Any change made on the creation of Allaah is haraam. Well, Islam prohibits eyebrow shaping as well so let's say that tattooing is not for them and God bless those who can get a piece of art on their body.